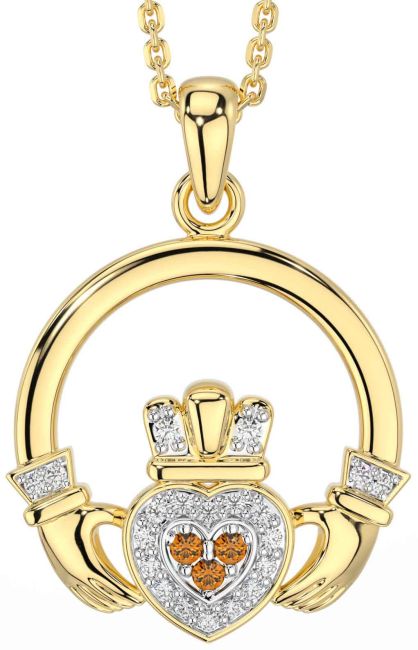 Diamond Citrine Gold Silver Claddagh Necklace
Free Shipping
Get it in USA by Friday, Dec. 15 >
This Claddagh Necklace [Selection_stone] The current selection is made from . Set with and accent . . . . [general] [Claddagh_short]
Item Details
This Claddagh Necklace comes in Gold and Silver set with a choice of Diamonds and Gemstones. The current selection is made from . Set with and accent . . . .
Individually handcrafted in Ireland. Guaranteed Quality.
The Crown represents Loyalty, The Heart represents Love and the Hands represent Friendship. The Claddagh Ring originated in our home, Galway, Ireland and is now a World Famous symbol associated with Ireland.
Video on the Story of the Claddagh Ring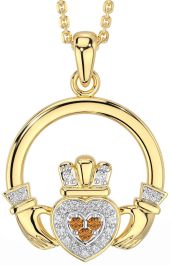 See Full Details
CENTER STONE
| | |
| --- | --- |
| Type | N/A |
| Quality Grade | N/A |
| Size | 1.5 mm |
| Weight | N/A |
SIDE STONES
| | |
| --- | --- |
| Type | N/A |
| Quality Grade | N/A |
| Size | 0.9 mm |
| Weight | N/A |
SETTING
| | |
| --- | --- |
| Height (excl bail) | 19 mm |
| Width | 19 mm |
| Metal | N/A |
ENGRAVING
Chain
Meaning of Design
The Claddagh: the crown represents loyalty, the heart represents love, and the hands represent friendship. It is widely known as a symbol for great friendship. This ancient Gaelic design is also used in engagement rings and in traditional wedding rings for the Irish. If worn on the right hand with the heart facing out it means you are single, facing in means you are dating someone. If worn on the left hand with the heart facing out it means you are engaged and facing in you are married. An original symbol of the "Fisher Kings" of the Galway town of Claddagh, Ireland, (pronounced clada) the design was first fashioned into the traditional ring back in the 17th Century during the reign of Mary II. Legend has it that an Irish young man, Richard Joyce, bound for the West Indian slave plantations - no doubt the Irish Caribbean island of Montserrat - was kidnapped himself in rough seas by a band of Mediterranean pirates and sold to a Moorish goldsmith who over the many long years of his exile helped him perfect the skills of a master craftsman. When in 1689 King William III negotiated the return of the slaves, Joyce returned to Galway - despite, it said, the Moor's offer of the daughter's hand in marriage and a princely dowry of half of all his wealth. Back in Ireland a young women had never stopped faithfully waiting for her true love to return. Upon which time when he presented her with the now famous Royal Claddagh gold ring - a symbol of their enduring love. Two hands to represent their friendship, the crown to signify their loyalty and lasting fidelity, and the sign of the heart to symbolise their eternal love for each other.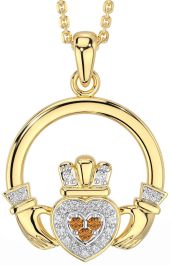 Customer Reviews
Verified Customer Reviews
We're currently collecting product reviews for this item. In the meantime, here are some from our past customers sharing their overall shopping experiance.
99%
of customers that buy
from this merchant give
them a 4 or 5-Star rating.
Sunday, December 10, 2023 by Helen (Kent, United Kingdom)
Saturday, December 9, 2023 by Shirley (CT, United States)
Thursday, December 7, 2023 by Larnikat (, United Kingdom)
Monday, December 4, 2023 by Orla Connolly (Dublin , Ireland)
Close
How to Find Your Ring Size
Sizing Tips
Finding your ring size is very simple. For the most accuracy, measure the inside diameter of an existing ring (worn on the same hand and finger), and then find that measurement on the Ring Sizing Chart. If you don't have a ring to use, follow these easy steps:
Step 1: Cut a strip of paper long enough to fit around your finger
Step 2: Wrap the paper around your finger, just above the knuckle, and mark the point at which the two ends meet
Step 3: Measure the paper from mark to mark
Step 4: Find that measurement on the Ring Sizing Chart to locate your size
SEE OUR RING SIZE CHART
>
Free Resizing
If you still don't know the exact ring size to order, rest assured, we provide one (1) FREE resizing of your ring within 60 days of the original shipping date. This includes items that have been engraved.
Close
Mo Ghrá: Means 'My Love' copy
A Stór: Means 'My Treasure' copy
A Chroí: Means 'My Heart' copy
Pheata: Means 'Pet/Darling' copy
A Chara: Means 'Friend' copy
Meala: Means 'Honey' (Prounounced 'M-alla') copy
Clann: Means 'Children' (Prounounced 'Klan') copy
Iníon: Means 'Daughter' (Prounounced 'in-yeen') copy
Mac: Means 'Son' (Prounounced 'Mack') copy
Agra: Means 'Love, Beloved or Sweetheart' (Prounounced 'Ag-rah') copy
Cairde: Means 'Friends' (prounounced 'card ja') copy
Síor: Means 'Always' (Prounounce 'Sheer') copy